The South African Department of Correctional Services is not ruling out the possibility that seven Zimbabweans who sawed their way out of the Waainek Correctional Centre in Makhanda may have been helped by prison guards. Five of the escapees – Francis Chitiyo, Trymore Chauke, Simba Masinge, Nhamo Muyambo and Abraham Moyaneo – were convicted just 18 days ago for poaching rhino horns at top Eastern Cape game reserves. Bennet Kwarrile, detained for housebreaking, theft and attempted murder; and Luvuyo September, charged for murder, kidnapping and robbery, reportedly took advantage of the escape and also made a dash for freedom. By Tuesday night, one of the men was caught in Bloemfontein and was in police custody, police told the media.
In the early hours of Tuesday, the men used 300mm hacksaw blades to cut steel bars to escape from cell seven that housed 28 inmates. The three handle-less blades, which can be bought over the counter for R30 each, were found by officials strewn across the prison grounds on Tuesday morning. A retired senior prison guard told News24 it was suspicious the five men, arrested together for the same offence, were placed in the same cell. The guard said: It's strange. Prison rules do not allow for co-accused to be in one cell.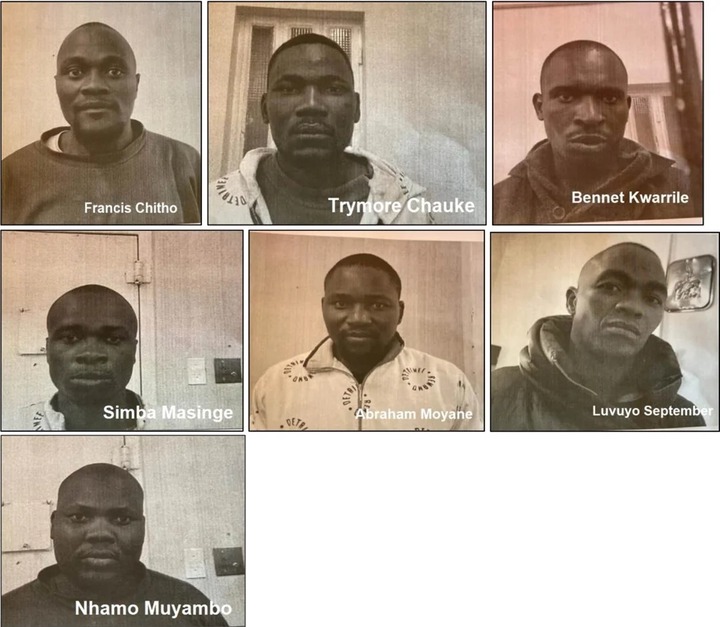 We would normally break them up to avoid things like this. It's too risky to keep a gang in one place because they can plot easily. He also questioned the fitness of the guards in performing their duties at the prison. "Guards on duty are supposed to check the structural integrity of the cell every day. They supposed to hold and shake the steel bars to check if they have not been compromised. This is usually done more than twice per shift. How did they not see that the burglar bars were damaged?" A correctional services department insider told the media that the escapees took advantage of a fragile environment created by the absence of the head of the centre who was nursing injuries at home. The source said the centre had been leaderless since Nikelwa Nontshinga sustained back, head and neck injuries in a car accident earlier this year, forcing her to be on prolonged sick leave.
According to the insider, the acting head had been unable to act against guards who were not putting much effort in executing their duties. "The cutting of the steel window cannot be an overnight operation. It took these inmates weeks to do this. How did different shifts not pick this up," the source added. Asked about the allegations of collusion between the guards and inmates, national department spokesperson Singabakho Nxumalo said: We are investigating the circumstances under which they escaped.
This shall involve possible involvement of other parties. Be it outside or inside. Eastern Cape High Court Judge Gerald Bloem found six men – Misheck Chauke was not part of the group of men who escaped – guilty of conspiracy to commit rhino poaching in a judgment on 30 September 2022. The convicts, who are foreign nationals and were set to be sentenced on 4 November, were arrested during a stop-and-search operation on the N2 on 31 July 2018 outside Makhanda in an intelligence-driven operation. During their arrest, police confiscated a dismantled .375 hunting rifle mounted with a night vision scope and silencer.
Police also found ammunition, daggers, axes and 10 cellphones. Investigations linked them to several rhino poaching incidents in the Kagga Kamma Game Reserve in Gqeberha, Shamwari Game Reserve and Great Fish Reserve in 2016 as well as the Kleindoringberg Game Farm in July 2017. Four of the six men were previously arrested in Tarkastad for poaching. Environmental Affairs and Tourism MEC Mlungisi Mvoko, who at the time hailed the precedent-setting judgment for sending a strong message to poachers, said it was regrettable to learn about the escape.
Mvoko, whose department funds 15 public nature reserves in the Eastern Cape, some of which have been previously targeted by poachers, added: "It's a setback in the fight against rhino poaching as these convicts could come back and commit similar crimes. Their escape should be investigated to discover if there was any foul play. We are hoping for their swift re-arrest by the state." A case of escaping from lawful custody has been opened for further investigation. Police have dispatched a chopper and several units to trace and re-arrest the men.